Upland Mobile Messaging makes it easier than ever for customers to engage with your brand directly.
On-the-go customers don't want to wade through generic emails or wait for hours on the phone to talk to someone. Instead, use text messaging to guide them through personalized interactions that reaffirm your brand's commitment to excellence.
How It Works
Deliver the best in class customer experience with the responsiveness and engagement that consumers have come to expect.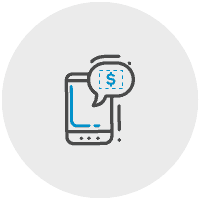 Create lasting customer relationships
Show appreciation for loyal customers with exclusive offers.
Provide timely customer support
Respond to every concern with a 24/7 live chat option.
Grow your list with personal referrals
Grow your list by asking customers to refer their friends.
Still have Questions?