IT Financial Management software to enable smart decisions
Build IT financial intelligence and collaborate with the business to accelerate growth.
Use the best ITFM software to see IT cost, refocus budgets and get more done.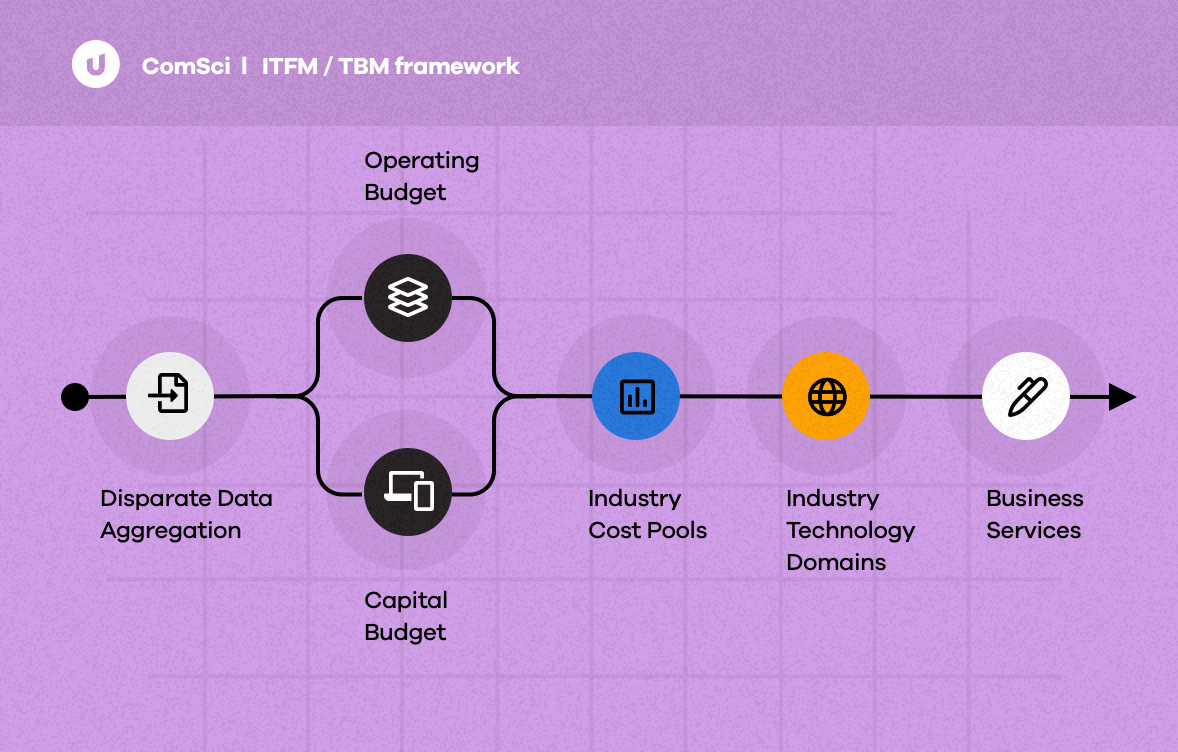 Establish a foundation for scalable IT financial management
Standardize the way you track and report on the consumption of IT products and services, and align investments with business outcomes.
Enable IT to capitalize on investments by mapping processes and data to a common operating model.
Drive efficiency through intuitive business intelligence and proactive data analysis.
Get visibility and optimize usage of IT products, services and cloud applications. 
Enable intelligent and nimble decision-making to continuously improve labor, vendor, asset, project and cloud spend.
Communicate IT spend based on actual and planned consumption.
Spot and reduce unnecessary costs to align technology spend with growth objectives.
Informed IT Financial planning 
Actionable insights on IT spend and consumption across labor, vendor, and assets, increasing forecasting, accuracy, and IT accountability.
Augment your team with a powerfully knowledgeable partner. 
Get strategic expertise vested in your business to manage your financial close process, receive and validate source data, and provide ongoing insight and guidance.
The tools you need, and then some. 
Combine technology business management with cloud cost optimization, telecom expenses, and project and labor costs. Whatever you want to track, we've got you covered.
Upland ComSci has helped to demonstrate what we were saying — has brought legitimacy — and it's helped us progress toward demonstrating value and having more informed conversations within IST and with our clients.

Cheryl Earle
Director of Finance, Administration and Human Resources, IST, University of Alberta
Selecting an ITFM Vendor
This white paper is designed to help you understand what you need to know about your organization's IT financial management processes, and how to engage vendors to identify a product that fits your unique needs.
Build trust in decision-making with actionable data with our TBM solution.
Upland ComSci equips your business with the right data, visibility, and analytical capabilities to make informed business decisions.
Consolidated IT products and services spending 
Labor, vendor, asset, project and cloud usage, and demand allocation
Categorization of all products and services
Allocation & cost modeling workflows and templates
Operational metrics including utilization, volume, and service level agreements (SLAs)
Comprehensive Bill of IT and shared services
Consumption-based showback and chargeback
Pro-forma invoicing
Configurable bill delivery
Cloud Financial Management
Real-time reporting on cost, usage, demand of network, storage, and data center assets
Asset tagging and assignment
Cost allocation and chargeback
Application, software, and vendor realization
Scoring, categorization, and prioritization
Total Cost of Ownership (TCO)
Vendor analysis, justification, and consolidation
IT cost reporting and forecasting
IT CapEx and OpEx planning with variance to actuals
Integrated workflow and approval processes
Multiple year and multi-version comparison
"What-if" scenario planning
Build your IT powerhouse with the right TBM tool.
Pair Upland ComSci with other IT products to drive bigger and better ROI.