Computer telephony integration (CTI) to fuel efficiency
Increase agent productivity and earn happier customers with a seamless connection between your CRM and business phone system.
Deliver better service, sales, IT and HR support with CTI
Streamline contact center operations with a CTI system that works.
Connect your existing phone system with your CRM.
Drive more successful service and sales with one simple, smooth integration that supports unique and complex contact center workflows.
Increase customer satisfaction and improve your Net Promoter Score by as much as 50%.
Add instant value to your existing tech stack and bottom line, without overhauling your infrastructure.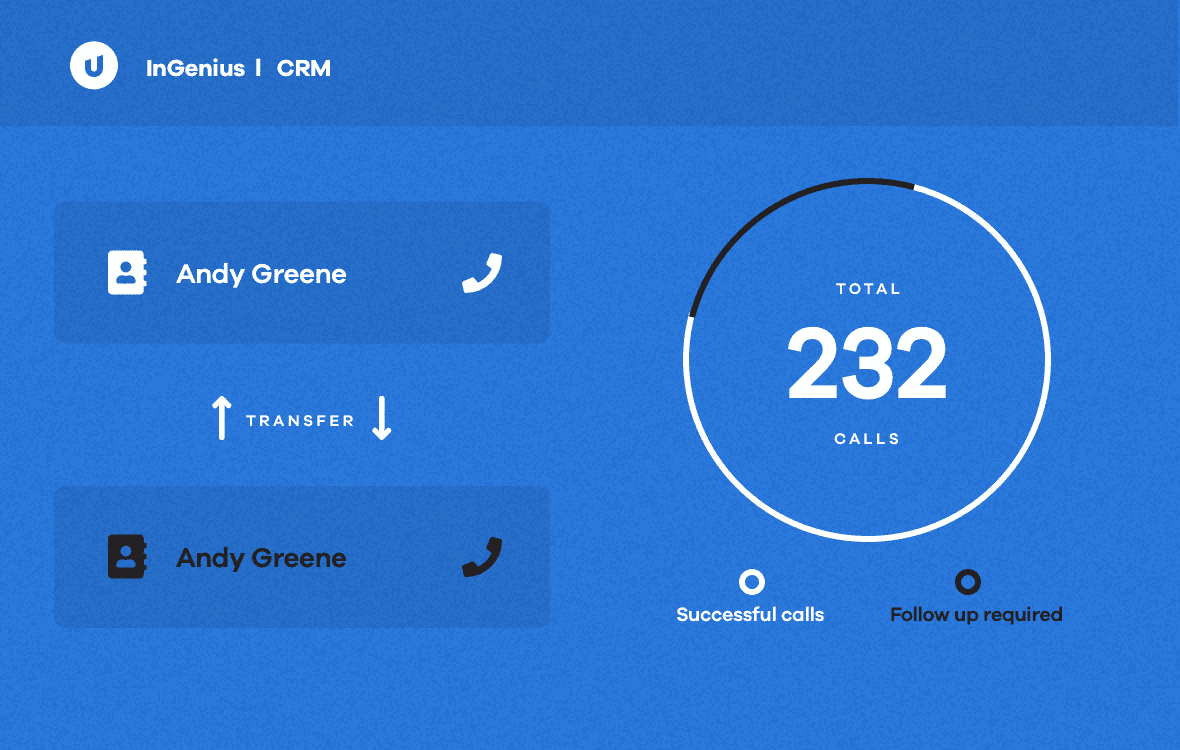 Boost productivity without compromising quality.
Standardize contact center best practices across teams and empower your agents to get more done—without ever leaving your CRM.
Empower agents to place, answer, and transfer calls from within your CRM, with added caller insights.
Increase case handling capacity with blended omnichannel agent support, while reducing case resolution times.
Deliver personalized service, sales, and helpdesk.
Give agents valuable caller information from your CRM in the moment—and enable them to efficiently capture and act on important call details.
Monitor and measure employee performance.
Track it all, from successful call counts and agent talk time to call volume and call results, and optimize resource availability during peak hours.
Identify common caller pain points and call trends.
Accurately capture call drivers, then spot trends with visual reports and dashboards in your CRM to help you make better business decisions.
Moving to Upland InGenius has allowed us to hit our 3-hour SLA 100% of the time. Previously it would take almost a full day!
What is CTI?
Computer telephony integration, or CTI, is a technology that connects phones to computers—helping contact center agents save time, be more productive, and improve customer satisfaction.
Our CTI software works with your existing CRM and phone system.
Upland InGenius integrates these popular CRM platforms and phone systems, with the ability to customize to your needs.
CRM integrations
Microsoft Dynamics 365
Supports Microsoft Dynamics 365 online
Compatible with all supported phone system integrations
Seamless omnichannel environment to support blended agents
Salesforce
Supports Salesforce Classic and Lightning in Sales Cloud, Service Cloud, Financial Services Cloud, Lightning Health Cloud, Consumer Goods Cloud, and Government Cloud
Service Cloud Voice for Partner Telephony – BYOT with InGenius
Compatible with all supported phone system integrations
Seamless omnichannel environment to support blended agents
ServiceNow
Works with Customer Service Management (CSM), HR Service Delivery, and IT Service Management (ITSM)
Compatible with Avaya, Cisco, and Genesys phone systems
Advanced Work Assignment to support blended agents
Built On Now certified trust factor
Phone system integrations
Asterisk
Supports Asterisk versions 13 and 16
Compatible with Microsoft Dynamics 365 or Salesforce
Avaya
Supports Avaya Aura Communication Manager and Aura Call Center Elite
Compatible with all supported CRM integrations
Cisco
Certified for Cisco Unified Contact Center Express (UCCX), Unified Contact Center Enterprise (UCCE), Unified Communications Manager (CallManager), and Packaged Contact Center Enterprise (PCCE)
Compatible with all supported CRM integrations
Genesys
Supports Genesys Engage integration with Microsoft Dynamics 365, Salesforce, or ServiceNow
Supports Genesys Cloud integration with Microsoft Dynamics 365, ServiceNow, and Salesforce
Connects to Service Cloud Voice enabling real-time transcription, intelligent dialing, Einstein AI, and multi-instance/multi-region support
Seamless migration experience for customers switching from Genesys Engage to Genesys Cloud
Listen to our latest podcast
Denis Francoeur talks about the evolution of contact centers, how expectations have changed for agents and customers alike, and
how personalization is a game changer for customer experience and satisfaction.
Reliable computer telephony integration products mean real results.
Context. Convenience. Configurability.
Upland InGenius delivers a user-friendly experience with features designed to save time and support positive call outcomes.
Calls with context
CRM screen pop on agents' screens before calls are picked up
Caller ID or customer-entered interactive voice response (IVR)
Fully configurable to show leads, contacts, accounts, and more
Quick, accurate dialing
Click-to-dial directly from any CRM record
Preview dialer and voicemail drop
Configurable speed dials and search-and-dial functionality
Automated call logging
Inbound and outbound call records logged directly to your CRM
Capture of call duration, subject, and comments
Customizable call note templates and wrap-up codes
Seamless call transfers
One-click transfer buttons
Automatic CRM screen transfer popped to the subsequent agent
Each agent call logged within the related records
Simple setup and maintenance
Risk-free 30-day pilot
Quick deployment with an online meeting
Easy license management across multiple locations
Multi-platform, multi-browser, multi-line support
Reliable, secure technology
24/7 uptime and High Availability infrastructure
Multiple phone switches for high call volumes
All data transmitted inside your firewall
Convenient, configurable access
Single point of authentication and single sign-on (SSO)
Individual user permissions
Granular security settings
Intuitive interface
One-click buttons to create new leads, contacts, and more
Integrated call controls
Integrated language translation
Conquer contact center operations with the right CTI application.
Pair Upland InGenius with other products for delivering exceptional customer service.