Note: This post was originally published in April 2014, but has been updated with new data.
Conversion rate is one of the golden marketing metrics that is measured across most channels, and for mobile, it's no different. Mobile app conversions go far beyond downloads; in fact, the real conversions happen in-app, when an engaged user converts on a specified goal. But as prolific as mobile apps have become, marketers feel they don't have the insights to optimize their in-app experience to prompt purchases and other key conversions.
One of the most common of these insights is what your in-app conversion rate should be. What businesses want to know is how well are users currently converting, how can that be improved, and where do we stand across the industry? To get started, we've outlined where in-app conversion rates are today and what that means for your brand.
Looking at mCommerce Conversion Rates
According to Monetate's quarterly ecommerce study from Q4 2017, 2.03% of smartphone users convert, 4.19% of tablet users convert, and 4.68% desktop/traditional users convert. There is still a conversion gap between mobile vs. traditional that needs to be closed as users continue to use their devices to browse instead of purchase.
Source: Monetate
In addition, Forrester's 2017 study on online retailing found conversion rates for mobile browsers (2.3%), mobile apps (6%), tablets (3.3%) and desktops (4.2%).
It remains tough to measure mobile app conversions due to the wide variety of "conversion events" i.e., a single mobile app can define multiple events in addition to a simple checkout. However, mobile apps are clearly the winners when it comes to conversion: compared to mobile browser traffic, apps convert 160% more users. Compared to desktop traffic, apps convert 43% more users.
App conversion rates will continue to be a focus as marketers and app developers seek to drive more revenue from their apps. There is still a lot of work to be done in optimizing user experience for better engagement to drive more conversions, but the question still remains: what is a good app conversion rate?
What's Good?
The general consensus across forums, independent research and brand-provided analysis is that most apps have a 1-2% average conversion, so hitting anything above 2% should be considered a strong conversion rate. Games, because of their addictive quality and high time in app, can see average rates as high as 10%, whereas SaaS apps sometimes struggle to hit 1% on in-app goals, despite being relatively well-known. Conversion for the online travel industry is 1-5%, and actually has higher mobile conversion rates than desktop conversion rates.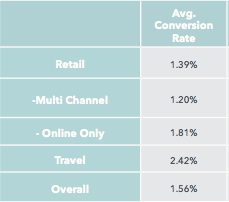 Source: Wolfgang Digital, 2017
But in reality there is no golden standard – and that's ok, because there are more important takeaways to improving app marketing.
This discrepancy isn't a direct result of the lack of research, but rather, reflects the truth that there are many different types of apps serving many different purposes. It's difficult, and sometimes detrimental, to pinpoint the ideal conversion rate if it doesn't accurately suit your end goals. The keys to boosting app conversion rates are 1) defining your app's unique conversion goals, and 2) creating effective engagement strategies to increase those conversion rates.
Identifying Your Conversion Goals
MCommerce isn't the only industry that measures conversions. A conversion doesn't have to be an in-app purchase – it can be an article read, game played, social interaction or even an increase in time spent in the app. If yours is a media app, you might be most interested in converting passive users to active subscribers. If you've got a travel app and are running a push messaging campaign prompting users to check in for a flight, your conversion goal might have nothing to do with purchasing.
Because certain actions are completed more readily than others, knowing your conversion "ask" is essential to identifying your ideal conversion rate. Then, improvements can be made incrementally when you:
Identify your list of the top 5 most critical actions/conversion rates
ID your lowest conversion rate, and target that as the baseline for improvement
Come up with a few tactics to make improve the conversion process, potentially enlisting others in your organization for ideas
Define conversions in whatever way makes sense for your app monetization strategy. And remember, conversion rates can always increase, and the work is never done. Improving them you should always be working on!
Driving Engagement and Loyalty
We've found that apps that send in-app messages have more loyal and engaged users. Specifically, apps that send in-app messages show approximately 27% more app launches and 2X higher user retention than apps that do not.
Engaged users convert at higher rates and provide you with more overall lifetime value. This means your conversion rates are highly dependent on improving the in-app experience for users. In other words, if you aren't making it easy for people to do your desired actions, they won't do them!
Using your analytics to provide engagement and conversion data and tracking your progress against clearly-defined conversion goals informs almost everything in your app development cycle:
Redesigns
UX changes
Marketing campaign content
In short: picking relevant & impactful conversion rates and making an informed effort to boost them increases your overall ROI and helps make your app a profitable channel in your brand's overall marketing strategy – or in it's own right.
It's All Part of the Bigger Picture
Mobile is just one channel, so think of it in the context of your business plan. Do your mobile users browse in-app before making purchases in-store? How many of your users are engaged enough that they would use a mobile coupon? Essentially: how are your mobile users acting within and participating as a part of your overall marketing and sales funnels? Knowing this will help you improve in-app conversion rates, but also help in creating a more valuable app and a stronger marketing channel for your brand.