Upland Mobile Messaging recognizes that mobile is a crucial link between brands and their customers.
Our platform is built to run integrated campaigns that meet customers where they're at in order to achieve the results you're after. Customizable messaging options provide marketers with the ability to reach every customer with personalized promotions and offerings.
How It Works
Increase the effectiveness of existing marketing campaigns with a call to action that helps you profile and segment your consumers on the first set of messages.
Integrate with Every Channel
Create campaigns that complement your existing marketing programs.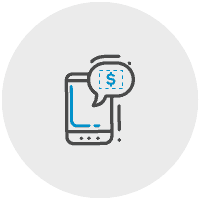 Offer exclusive promotions
Send personalized coupons and deals to your customers.
Reach customers at the right moments
Send time-sensitive messages that customers are guaranteed to read.
The Key to Multichannel Engagement: Text Messaging
Still have Questions?