InterFAX online cloud fax service for secure delivery
Transmit documents at volume to anywhere in the world, while adhering to global data security standards with InterFAX.
Imagine if you had cloud fax technology that could:
Seamlessly integrate with existing systems so you can just get down to business.
Quickly, securely, and reliably fax around the globe to supercharge your processes
Lower operational costs and scale to your needs as you grow
Monitor communications, maintain compliance, and safeguard sensitive information
Connect with an expert
All fields are required
Cloud fax gets it done.
InterFAX's cloud fax service ensures secure, reliable communications that safeguard sensitive data and accelerate your business.
Enterprise-ready online fax service, right out of the box
Transition from on-premise fax to fully hosted cloud fax quickly and smoothly and get immediate access to the robust capabilities your business demands.
Robust security and encryption
TLS encryption for inbound and outbound faxes
Authentication via private and public key signatures
"Delete Fax After Completion" feature
Enterprise capabilities
Unlimited allowed senders
Bulk fax broadcasting to up to 20,000 recipients
Automated activity reporting
Full audit trail of sent and received faxes
Global support
Support for international languages
Localized support resources in multiple languages
Compliance with global data sovereignty laws
Flexible controls
Customizable fax headers and cover pages
Granular user credentials and permissions
Delivery confirmation policies
Automatic retry attempt settings
Advanced fax features
Mail merge features for lists and personalization
Multiple destinations and deferred transmission
Document resolution
InterFAX Salesforce API
Capture features
Automated data extraction and indexing
OCR, conversion, and compression
Scanning device enablement
Customizable document workflows
Get secure, seamless, scalable cloud fax with a flexible API.
Use enterprise-grade fax from anywhere.
Send and receive faxes online through your email, the native web interface, mobile, and other scanning devices.
OCR, convert, classify, and extract data from faxes and index them.
Enable powerful workflow tools to automate fax routing, reception, and delivery.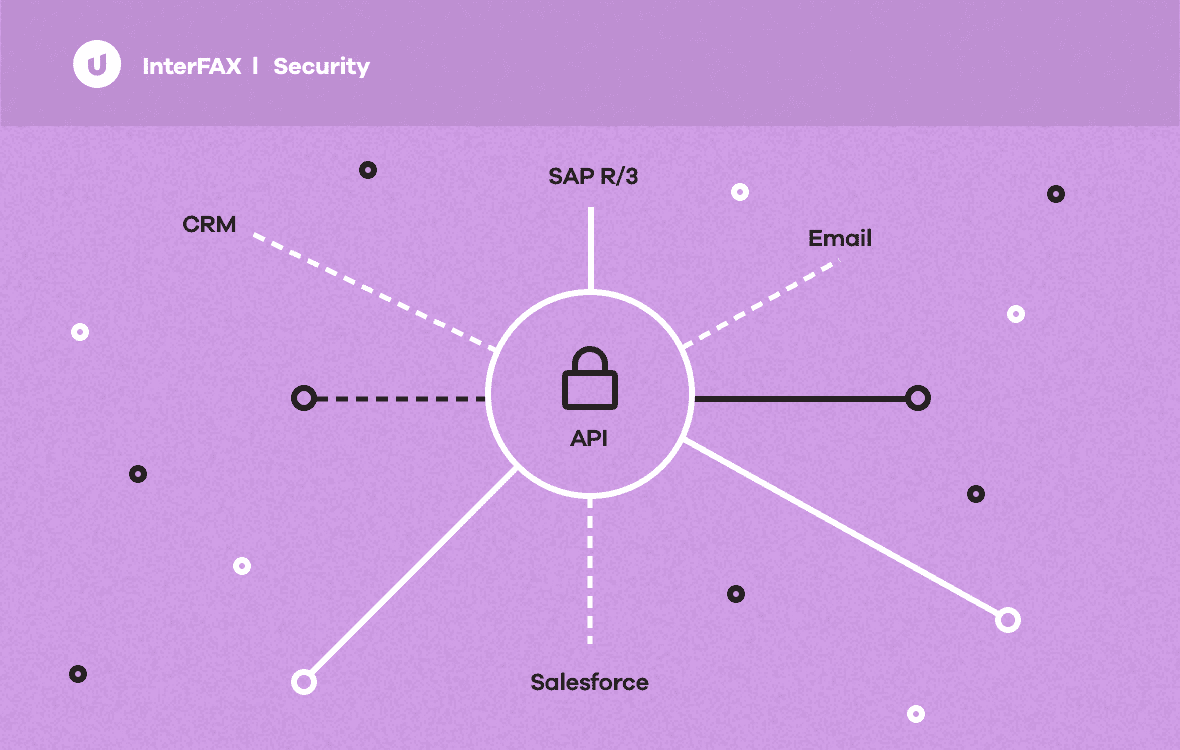 Easily integrate cloud-fax into any environment with extensive development resources.
Use our developer fax API to fully integrate secure, auditable cloud fax, with no up-front investment or ongoing maintenance.
Integrates with leading CRM, ERP, and email platforms, including MS Outlook, Salesforce, SAP R/3, and more.
Tailored to a variety of development environments using REST and SOAP communication protocols.
Meet rigorous industry compliance standards.
InterFAX is HIPAA and PHIPA compliant, ISO 27001 accredited, and the first and only cloud fax provider to be PCI DSS Level 1 certified.
Empower your remote workforce.
Allow remote employees to access sending, receiving, and settings through the web-based InterFAX Control Panel from any desktop or mobile device.
Reduce your IT burden and scale with confidence.
Our fully hosted solution offers guaranteed continuity and unlimited scalability—no hardware installation, software licensing, or additional phone lines required.
Online fax solutions built to industry standards
Our secure, auditable cloud fax meets complex document distribution needs and adheres to demanding compliance standards.
Healthcare
Access and submit sensitive patient information and records securely.
HIPAA and PHIPA compliant
Full audit trail of faxes sent and received through our servers
Education
Ensure the security of student data while increasing staff productivity.
PCI DSS Level 1 Certified to secure student and staff records and communications
Affordable and easy to use for busy educators
Nonprofit
Protect the personal information of donors and those you serve
HIPAA-compliant to protect the personal information of clients
PCI DSS Level 1 certified for accepting credit card payment online
Manufacturing
Meet the demands of customers by streamlining processes and increasing security
PCI DSS Level 1 certified for securing sensitive customer data
Maximize efficiency and minimize cost while adhering to compliance guidelines
Financial Services
Meet regulatory guidelines and ensure business continuity.
PCI DSS Level 1 Certified for securing sensitive customer data
Satisfies global data security standards like the Gramm-Leach-Bliley Act
Hospitality
Keep data secure and meet required compliance standards for online payments.
PCI DSS Level 1 Certified for accepting credit card payments online
Reliable, online repository for safely sharing booking information
Integrations to help you get more done
InterFAX works well with your existing systems, so you can streamline secure communications and just get down to business.
API
CRM
LOB Applications
OncoEMR® by Flatiron Health
Vertafore AMS360
Epic
SDK
Java Fax
.NET Fax
Python Fax
PHP Fax
Ruby Fax
NodeJS Fax
FAXCOMEXLib
ASP Classic
ASP Faxing Samples
ASP.NET Fax
C# Fax
ColdFusion
PERL Fax
VB Fax Code
VB.Net
Ready to get started?
Our cloud fax experts are ready to discuss your challenges and offer solutions. Contact us today for a customized product demonstration to see InterFAX in action.